Suggest to a person they should 'hug a cactus' and you are guaranteed to raise some eyebrows. With its piercing, thorny exterior the cactus appears anything but hug-gable. However, people benefit in so many ways from this misunderstood plant that it may be time to think of cactus as a 'dear friend'.
There are so many different varieties of cactus, each with their own health benefits, that not all of them can be discussed. For the purpose of this article, I will focus on the common variety called Nopal Verde aka the Prickly Pear. So what is the Prickly pear and what can it do for you?
The Prickly Pear is a type of cactus common in the Southwest US and in Mexico. When its thick outer tusk is removed, the cactus may be consumed. In addition to being rich in vitamins and minerals, the Prickly Pear provides the consumer with the following benefits:
1) The Prickly Pear is rich in Polysaccharide fibers and sterols both of which have been shown to reduce LDL cholesterol.
2) The Prickly Pear also contains specific phytonutrients which, when introduced to the bloodstream, helps treat patients with type II diabetes.
3) The anti-oxidant and anti-inflammatory constituents that are common in the Prickly Pear remove and prevent the buildup of blood vessel plaque. By attacking this plaque, Prickly Pear helps to not only prevent artery disease but, indirectly, reduces the risk of heart disease.
4) Since the Prickly Pear is rich in both soluble and insoluble dietary fibers, regular consumption of Prickly Pear guarantees the regular absorption of water and toxins in the digestive track. Such regular absorption helps keep the colon cleansed and bowel movements regular.
5). Prickly Pear is not only useful in dealing with long term health issues but it can also do much to correct short term mistakes. If you had a bit too much to drink and you find yourself saddled the next day with a hangover, Prickly Pear can be nothing less than a 'knight in shining armor'. The juices of the Prickly Pear soothes the gastro-intestinal tract and alleviates the nausea that often accompanies a hangover. Furthermore, since most of the symptoms of a hangover(ie headache, fatigue, burning eyes) are due to dehydration and Prickly Pear provides fast and effective re hydration, it can be stated that Prickly Pear is an effective slayer of the 'mighty hangover dragon'
So there you have it, a listing of the health benefits provided by just one type of cactus. So the next time you see a cactus, standing alone in the barren desert, you may wish to say 'thank you' or offer an embrace. Despite its rough exterior, the cactus shows its softness toward men in so many ways that benefit our health. Let's not take it for granted.
For a quick and delicious way to saute chicken breasts strips this is the recipe for you.
You may use the same ingredients to bake chicken. Follow recipe but saute chicken for just a few minutes and add goat cheese strips to the top of the chicken and throw it into the oven, which should be 375 degrees. Bake for about 35 minutes. The chicken becomes much crisper when using the stove method.
Ingredients
2 cups of white flour
2 eggs
1/4 cup half and half milk
2 cups of Progresso bread crumbs
5 tablespoons of extra virgin olive oil
3 tablespoons of good honey
1 medium to large red onion
3 fresh elephant garlic cloves (minced)
2 teaspoons of sea salt
1/2 a teaspoon of fresh ground black pepper
2 handfuls of fresh chopped basil
1 and a 1/2 teaspoons of fresh chopped Oregano
1 teaspoon and a half of fresh chopped thyme
I teaspoon of fresh chopped rosemary
3 to 4 pounds of natural, sliced, and skinless chicken breasts
Get three large bowls out. In one bowl add the flour.
In the second bowl add the eggs and beat with milk.
In the third bowl add the breadcrumbs.
The bowls should be placed in that order with the last bowl closest to the saute pan.
With a food processor using the thinnest blade shred onions and garlic and put into separate bowls. Place the bowls on or around the stove.
Cut up basil, oregano, thyme and rosemary. Keep them on your chopping board separated.
Put a medium sized saute pan on medium low and add two and a half tablespoons of extra virgin olive oil, and add one and a half tablespoons of honey, about half a handful of onions, to taste, and half of the minced garlic, one teaspoon of sea salt, a quarter of a teaspoon of fresh ground black pepper, and a handful of basil and a pinch of the oregano, rosemary, and thyme.
Arrange everything to cover the bottom of the sauce pan and wait until it begins to sizzle. This should only take about two minutes.
Take a strip of chicken ( pan should hold five strips) and rinse it well under water, then dip it into the flour. Next dip it in the egg and milk mixture, then dip into the bread crumbs.
Place on saute pan and cook for three minutes. When it's time to turn them over use a spatula and a wooden spoon. Lift the chicken with the spatula, and with the spoon gather all of the rest of the juices to flavor the other side. With the spatula flip chicken to the other side and cook for an additional three minutes. If you prefer your chicken brown and crispy you can cook for an additional minute on each side. Repeat the process with the rest of the ingredients.
Should make about ten hearty chicken strips.
Source:
1. How To Cook Moist & Tender Chicken Breasts Every Time – The Kitchn
2. How to Cook Boneless Chicken Breasts on the Stove | No Recipe …
One of the best wine regions in the world is undoubtedly the Margaret River region of Western Australia.
However due to its remoteness it is also one of the least recognised regions in the world. When your average wine buyer thinks of Australia they no doubt think of Kangaroos (Yellow Tail) Koalas (Bear Crossing) Fish (Madfish , Barramundi, Fishtail) and various other critters that have turned into huge wine brands over the last 10 years, plus the major representatives of the vast region known as SEA ( South East Australia) such as Lindemans, Rosemount, McWilliams.
In order to find some real gems you need to move away from the big brands, leave the South East and venture way out West.
The Margaret River region is a leisurely 3 and a half hours drive south from Perth, the capital of Western Australia, following the beautiful coastline and rugged countryside route that takes you "down south".
The climate in Margaret River is maritime, the winters are cold and wet, the summers are warm and dry with the sea breezes and coastal influence.
Key varietals from this region are Chardonnay and Cabernet Sauvignon. Some of the best Chardonnays in Australia are from the Margaret River region – think Leeuwin Estate Art Series, Vasse Felix Heytesbury, Voyager Estate, Evans & Tate Wildberry Springs. None of these wines are cheap but when you compare them to the great French Chardonnays such as Mersault or Chassagne Montrachet they can stand with their heads held high. This region produces beautiful well balanced Chardonnay not the heavily oaked styles that have previously dominated the market. These Chardonnays win medals and trophies in International Wine shows and are produced by winemakers that have learnt their skills across the world including Europe.
For red wine lovers treat yourself to a great Margaret River Cabernet, compare it to a great Bordeaux, you will be surprised. These wines are not the usual Australian fruit bomb, they are elegant and well structured with fine tannins. The 2004 Thomas Hardy Cabernet just scored 97 points in the 2008 James Halliday Australian Wine Companion the top score for any Australian Cabernet and it hails from Margaret River.
Some other stunning Cabernets currently on the market are, if you are lucky enough to find them, Evans & Tate The Reserve Cabernet 2003, Howard Park 2004 Cabernet, Capel Vale 2005 Cabernet.
Go on treat yourself and explore the fabulous Margaret River Region W.A
Pairing beer and food is an individual art form. Some where between "Budlight goes with everything" and "Budlight isn't even a beer." are those who understand complementing flavors. The beer is not to detract from the food and the food is not to detract from the beer. They each have their places.
Whilst there are some general guidelines no two pallets are alike. The perfect pairing for one may not be the perfect pairing for the next.
So let's review some general guidelines and then take a look at some suggested pairings. It gives a novice someplace to begin.
Experts suggest that these three terms will help. Consider these three words cut, contrast, and compliment.
~ Cut
This refers to beers that cut through some aspect of the food. For example beer with a lot of acidity cuts away the fatty film left behind by rich foods. To cut the burning sensation of spicy hot food a malty beer with a high alcohol content works even better than water.
~ Contrast
Contrasting is like the one-two punch to the pallet. Smoked beer and strong cheeses are both very different, but very strong flavors. Fresh raw oysters are often paired with dry Irish-style stout. Again think of contrast, like black and white flavors. Or another way to remember may be opposites attract.
~ Compliment
Some things just go together like peanut-butter and jelly, bread and butter, and macaroni and cheese. The flavors melt together to create a whole new sensation. Maybe a mild beer works better with mild food for some.
Let's let the professionals give us some specific suggestions.
*For foods like stews, shepherds pie, and meats served with lots of think gravy try Porter, or oatmeal stout.
*Looking for something to go with a vegetarian meal? Some good choices would be Dunkelweiss or Wiessbier.
*Amber ale is an excellent beer for any foot that is not sweet. So have it some with pizza, sandwiches and Mexican food.
*If cheese cake with raspberry sauce in on the menu (lucky you) serve some cream or sweet stout. These beers are meant to be savored with chocolate and fruit desserts.
The best part of pairing food with beer may be in the experimentation. The rules do not mean anything if they don't work for you. However, it would be a shame if you enjoy a good beer and don't experiment a little and see how it can enhance a meal. After all, it is a great idea to have a meal be something that is fun, social, filling and fun.
sources:
http://www.beertravelers.com/lists/pairings.html
http://www.sallybernstein.com/beverages/beer/beer_with_food.htm
http://beeradvocate.com/beer/style_pairings
Source:
1. Pairing Beer and Cheese, Do's and Don'ts – CraftBeer.com
2. The 3 C's of Pairing Beer with Food: Cut / The Mash
Today, hops are used in almost every style of beer. Hops, the female cones of the humulus lupulus plant are used to provide flavor, aromas, and bitterness. How much of each depends on what kind of beer is being made. A European lager for example will have a fairly minimal hop presence compared to an English bitter or India Pale Ale. Today, hops are used so extensively it's hard to imagine a time when hops had no place in beer at all.
Initially, a variety of herbs and flowers were used to balance beer's sweetness. Juniper, heather, pine needles, dandelion, and bog myrtle are among the plants commonly used in beer's production. These herbs were gradually abandoned when brewers discovered that hops protected against spoilage. Hops made their way into beer first in Germany in the 13th century, followed by Holland around 1400. However, hops didn't make their way to England until the early 1500s and it was a hundred years before they made their way here to the colonies.
Today, hops used in the brewing process can be divided into two categories bittering and aroma. Using hops in is all about extracting their oils during the boil before yeast is added to ferment the beer. The oils providing flavor and aroma are fairly volatile so those hops only get added during the last couple minutes of the boil. Any longer than that and they boil away. Bittering hops on the other hand need to be in the boil for 60-90 minutes to extract bitterness.
I've put together a list of bittering and finishing hops used commercially and by home brewers. If you want to use hops for flavor rather than aroma, use the finishing hops and put them in 5 minutes before the end of the boil rather than the 2-3 minutes if you're using hops for aroma.
1) Brewer's Gold
Grown in the UK and the U.S. Brewer's offers poor aroma and sharp bitterness. Often used for ales. Brewer's Gold has 8-9% Alpha acid. Substitute Bullion, Northern Brewer or Galena. Best used for bitterness rather than flavor and aroma.
2) Centennial
Grown in the U.S. Centennial offers spicy, floral, citrus aromas and clean bitterness. Centennial can be used for bitterness or aroma. Centennial is often used for American IPAs. This variety of hop offers 9-11% alpha acid. If you can't get Centennial, Cascade or Columbus can be used in its place.
3) Challenger
A British hop offering strong, spicy aromas. Classic hop for use in English Bitters. Challenger also offers crisp, clean bitterness. As such Challenger can be used either to provide bitterness or aroma to your beer. Alpha acids come in at 6-8%. If you can't find Challenger try Progress.
4) Chinook
American hop with a heavily spicy aroma and strong bitterness. Chinook's bitterness can be cloying if used in large quantities. Chinook can provide aroma but with 12-14% alpha acids you're more likely to use it for bitterness. Chinook is also used to make American IPAs. Substitute Galena, Eroica, Brewer's Gold, Nugget, or Bullion if you can't find Chinook.
5) Northern Brewer
Grown mostly in the UK, U.S., Germany. Northern Brewer offers a fine, fragrant aroma with dry, clean bitterness. Northern Brewer can be used for bitterness or aroma. This hop can be used for many kinds of ale, sort of a general purpose bittering or aroma hop. Alpha acids come in around 7-8%.
6) Nugget
Nugget is grown predominantly in the U.S. and offers heavy, spicy, herbal aroma. Because it has 12-14% alpha acids, Nugget is used mostly for bittering. However, it can be used as a finishing hop either on its own or with other varieties. Substitute Galena, Chinook, or Cluster.
7) Perle
Hailing from Germany and the U.S. Perle has a pleasant aroma. Bitterness is slightly spicy and according to some, almost minty. Perle is a general purpose hop used in many lagers. Alpha acids are 7-9%. Substitute Northern Brewer, Cluster, or Tettnanger.
8) East Kent Goldings
Grown in the UK, this hop offers spicy, floral, earthy, rounded, mild aromas and gently spicy flavors. Kent Goldings are used for bitterness, as a finishing hop and for dry hopping in many British styles. Alpha acids are at 4.5-7% so you may use this hop for aroma or bitterness. As a note for American home brewers, you'll probably see hops listed just as Goldings when you go to the supply shop. These are what you'll be looking for.
9) Fuggles.
Fuggles are grown in many parts of the world but come mostly from Britain and the U.S. Aromas are mild, soft, and grassy. Because this variety only offers 3.5-5.5% alpha acids, Fuggles is used predominantly as a finishing hop for ales and lagers. Substitute Goldings, Willamette, or Styrian if you can't find your Fuggle.
10) Hallertauer Mittelfruh
As you might guess from the name, this hop hails from Germany. It offers pleasant, spicy, noble, mild herbal aromas. Predominantly used as a finishing hop for lagers. Alpha acids are only 3-5% so you're not likely to use it for bitterness. Substitute Hallertauer Hersbruck, Mt. Hood, Liberty, Crystal, or Ultra.
11) Northdown
Northdown is similar to Northern Brewer. Northdown has better flavor and aromas, though. Northdown offers crisp, clean bitterness. With Alpha Acids coming in at 7-8% Northdown is a general purpose bittering hop. But with heavier ales, it can be used for flavor and aroma. If you can't find Northdown use Target
12) Mt. Hood
An American hop from the Pacific Northwest, Mt. Hood is one of three hops first bred as replacements for Hallertauer Mittelfruh. Aroma is clean and mild. Alpha acid can range anywhere from 3-8%. Mt. Hood is used mostly as a finishing hop and goes nicely in German lagers. Substitute Hallertauer Mittelfruh, Hallertauer hersbrucker, Liberty,
Tettnang, or Ultra.
Obviously this is a pretty short list of hops. If you're curious about the different varieties of hops or want a reference for your own brewing here's a list of emails you might find helpful:
http://www.fortunecity.com/boozers/brewerytap/555/hops/varieties.htm
http://www.uvm.edu/~pass/perry/hopvars.html
http://www.rootsdown.ca/hops/varieties
http://www.crannogales.com/HopsManual.pdf
http://www.suite101.com/content/noble-hop-varieties-and-substitutes-for-home-brewing-a258857
Source:
1. List of hop varieties
2. A Beer Beginner's Guide to Hops of the World | Serious Eats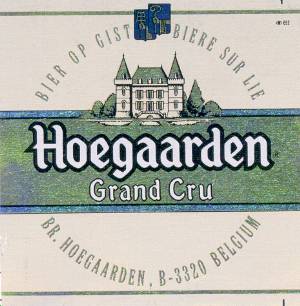 The town of Hoegaarden, east of Brussels, is situated in the centre of wheat growing country and at one time had more than 30 breweries producing the local wheat beer. The last brewery closed in the 1950s as traditional beers were being replaced by lagers, but around ten years later Pierre Celis revived the style. The brewery was a huge success and was acquired by Interbrew in the 1980s.
Based in Brussels, Interbrew is one of the oldest, and largest, beer companies in the world with breweries in 20 countries and its products being sold in more than 120 countries. it is responsible for such diverse beers as: Becks, Boddingtons, Leffe, Rolling Rock and Stella Artois
Witbier is a Belgian Wheat beer – meaning that it's a beer brewed using at least 25% of wheat malts. Belgian wheat beers are different from German, or indeed British and American wheat beers, in that they're fruitier, with a slight lemony touch. This is because of their use of coriander seeds, orange peels and other spices to flavour the beer.
It pours to a hazy, slightly cloudy, pale yellowish-orange colour with a luxurious head comprised of masses of tightly packed, tiny bubbles. This all leads to a mass of lacing on the glass that stays right to the very end. The aromas are of a gentle spiciness combined with a ripe tropical fruit (banana, pineapple etc.) Also present are medicinal-like phenols, a mild vine-fruit aroma, and of course orange.
It's medium bodied with a lively carbonation and a viscous mouthfeel. Again, the suggestion of tropical fruit imposes itself in the flavour with pineapple being the most dominant. There's a lot of yeast flavour giving a somewhat nutty impression, and a mass of complex spicy tones, especially coriander and cloves, backed up by the sharpness of the citric curacao peel. The hops are really only there for balance, giving just a very slight floral note. The finish is dry but still has lots of lingering fruity flavour while the aftertaste has a hint of vanilla and a light spiciness.
At 8.7% ABV, this a is a quality beer and one to savour and enjoy. It's very similar to the more ordinary Hoegaarden but it tastes better, it's a little bit darker and much stronger. I read somewhere that the Grand Cru is similar to how the original Hoegaarden used to be before becoming more commercialized – makes sense.
This is a very complex beer with lots of different aromas and flavours to savour and not really a beer to enjoy with a bar lunch – although you can if you want. No, this is for gently sipping on a balmy summer evening after a scorcher of a day. I've marked down three days in July for that very purpose.
Source:
1. Hoegaarden Brewery
2. Hoegaarden Grand Cru | Brouwerij van Hoegaarden | BeerAdvocate
Burger King has evolved into one the largest fast food chains in the world since its opening in 1954 by James McLamore and David Edgerton in Miami, Florida. It has 11,200 stores in 65 countries all over the world. A big reason for this is the franchise model they use in which they sell separate Burger Kings to separate private owners. The company has over 37,000 employees working everyday and serves around 11.4 million customers per day. It is second only to McDonald's in the fast food industry.
If you compared the current Burger King menu to the first one back in 1954, you would be surprised at the change. The first menu only offered burgers, fries, sodas and milkshakes. Since then they have added several variations of chicken, fish, salads and desserts. The Whopper was the big addition to the menu in 1957 and over the years has become Burger King's signature dish. That's why Burger King is called "Home of the Whopper".
In the 1970s, the Magical Burger King was introduced in commercials and it popularized the growing fast food chain. Since the 70s and up to 2003 the commercials have been failing to acquire new customers for the business. In 2003, Burger King hired a new advertising agency: Crispin Porter + Bogusky. Through their help "The King" was reborn.
First called Insta Burger King, James McLamore and David Edgerton opened their doors on December 4, 1954 in a suburb of Miami, Florida. McLamore and Edgerton both graduated from Cornell University with a degree in Hotel Administration. McLamore visited the original McDonald's hamburger stand in San Bernardino, California owned by Dick and Mac McDonald and the idea for Burger King was born.
Five years following the 1954 opening, Burger King had grown to five regional stores in the Miami area and McLamore and Edgerton planned to grow nationally. They used the franchise system and began to sell territorial franchise licenses across the U.S. In 1967, Burger King Corporation was bought by the Pillsbury Company and the fast food chain had grown to 274 stores nationwide.
In 1969, Burger King began to seriously venture into the international market when they opened up in Canada after failures in San Juan and Puerto Rico. After the successful Canadian opening, the company began to open restaurants in Oceania, Japan, Taiwan, Singapore, Korea, Mexico, Madrid and the Hungry Jack's franchise in Europe.
Burger King and other fast food chains were sold by Pillsbury to the British alcoholic beverage manufacturer and distributor Grand Metropolitan. Grand Metropolitan owned Burger King until 1997 when it merged with Guinness to form a new company Diageo. Diageo held Burger King until 2001 when it sold the struggling fast food chain to Texas Pacific Group.
The years leading up to the sale had been difficult for Burger King. Revenue and market share had declined significantly and the fast food chain Wendy's had closed the gap between the two for the number two position behind McDonald's. But since then they have remade their advertising and hold strong at number two with the fourth most franchises in the entire world. With the success they had last year (11 billion dollars revenue) they should continue to grow globally and make a whole lot of money!
Source:
1. Burger King
2. Burger King Corp Facts, information, pictures | Encyclopedia.com …
If you are an expert or master at barbecue, then there are chances you may want to create your own barbecue sauce. Even if you are not a master, you can still make your own homemade barbecue sauce. But, you might not have the time or the mood to make your own sauce. Even masters might be hard pressed for time. At any barbecue, the sauce is incredibly important. Luckily, you can always buy barbecue sauce at your local grocery store. However, you do not want to buy just any kind of barbecue sauce. You have to think about what barbecue sauce you want to buy at the local market. There are many brands of sauces to choose from. The best way is to try out the many different brands of barbecue sauce.
On Amazon.com, there are several to choose from. You may want to look at the brands that have four our five out of five stars. Such brands to look from would be the following: Cattlemen's, Scott's Spicy BBQ Sauce, Bone Suckin' Sauce, Open Pit Original BBQ Sauce, Country Sweet Sauce, Blues Hog, Smokin' Joe Jones' Barbecue & Dippin' Sauce, Country Sweet Hop, Jack Daniel's Barbecue Sauce, Heinz 57 Sauce, Nature's Hollow, and Sweet Baby Ray's.
BBQSauceReviews.com lists the following: Country Chef, Suckle Busters, Dragon's Blood, Uncle Joe's BBQ Sauce, Pork Barrel Original BBQ Sauce, Cattle Boyz Original BBQ Sauce, Grumpy's BBQ Sauce, Pigchaser BBQ Sauce, Grandma Foster's BBQ Sauce, Stage Coach BBQ Sauce, Midwest Best BBQ Sauce, Three Little Pigs BBQ Sauce, Outta the Park BBQ Sauce, Picky Vicki BBQ Sauce, Blenders Spicy BBQ Sauce, Captain Curt's Lemon Honey Boss Sauce, Tex Morgan BBQ Sauce, BBQ Stu's BBQ Sauce, McCane's Vidalia Pit Sauce, Bubba Q's BBQ Sauce, Oregon Dan's BBQ Sauce, The Secret Sauce Smokin Hot BBQ Sauce, Mad Dog BBQ Sauce, Jake's BBQ Sauce, Nephew's Ghostly Pumpkin BBQ Sauce, Pascua's Spicy BBQ Sauce, Alisha's Honey BBQ Sauce, King James BBQ Sauce, and many others.
There are many brands of barbecue sauces that you can buy from the supermarket. You want to try out the different brands of barbecue sauces. The most common brands would be KC Masterpiece, Bullseye, Jack Daniels, and so forth. If you want something quick, you may want to get something like KC Masterpiece. For the other types of barbecue sauces, if available, would be to stock up on them. You are not the only person looking for a good barbecue sauce when it comes to grilling time.
Source:
1. Best Bottled BBQ Sauce – Sweet Baby Ray's, Stubb's, KC … – Thrillist
2. The Best BBQ Sauce Taste Test | The Kitchn
Bottled water has too many disadvantages to put in one article.
It is a rip off, found to be no healthier than tap water. It is an environmental disaster, killing eco-systems not only in its production, but also in its ultimate landing whether that be in landfills, or choking seabirds and mammals in the ocean, or left on land surfaces.
Bottled water leads to many health hazards, bacteria grow in any liquid left in light. It is also well known that no matter what type of plastic the container is, it contains toxins, carcinogens, and things that leak into everything else. Your body holds many such contaminants, our early ancestors were made of different organic compounds altogether.
Plastic hurts mental health. Yes, you heard that right. Living in a disposable throw-away culture creates values that are shallow and show a sense of trash mentality. Shallowness is everywhere, and plastic itself if known to be a synonym for tacky, or worthless. We need to instill values, and value means caring about what is lasting, durable, useful, clean, beautiful, pure, and helpful.
Plastic is not simply evil. It just is an awful and inefficient alternative for what we used for thousands of years, metal, glass, and wood, all of which can be re used and biodegrade without hurting others. But plastic, at best should be used only for things like medical devices, and life saving rare implements.
Having TSA forces to use plastic zip bags, and confiscate bottles makes nations more vulnerable to terrorism, because our energy is being wasted and squandered on nonsense.
Please do your home work and learn more about plastic and bottled water. All water comes from the same sources. All water on earth is endlessly recycled for us through oceans, air currents, storms, glaciers, in and out of life form, including you, and everything that water touches can be refreshed and healed through water. If the water is filled with toxins by industry or farm run off, that water can be harmful to many living things, including the living soil.
Bottled water is worth looking into to find out the various kinds of plastic, HDPE, PET, and PVC, as well as all the others, how they are best (although seldom) recycled, and how they harm living health.
Bottled water is something we just don't need. It might be a different story, and perhaps in some advanced nations it is, if those that produced the stuff paid the high cost for health issues, environmental impact, disposable and the recycling programs.
Instead, you the taxpayers pay for all externalized costs and your health suffers for the costs in more than just economic ways.
We can do better than bottled water, and especially much better than bottled water in plastic. We know we can do better, because our species did so for about one million years.
Source:
1. Tap Water vs. Bottled Water | Food & Water Watch
2. Bottled Water and its Health and Environmental Impact – Mercola
During the Christmas holiday season, it is easy to become overwhelmed with all of the activities surrounding the season. There are so many special events that only occur this time of the year, and you don't want to miss even one. Add in the time it takes to shop for family and friends and your schedule quickly fills to overflowing.
When asked to bring a pie to a Christmas party, there are some choices you can make that will allow you to bake up some crowd pleasing items without blowing your budget or your schedule.
At a party, guests want to taste a little bit of everything. The round shape of traditional pie doesn't lend itself to small two-or-three bite-sized pieces, so consider making pies that can be made in a square or rectangle pan and cut in squares. This recipe works well and will hold up to traveling across town or across the country.
Derby Pie – made in 9X13 pan
Ingredients:
4 large eggs
1 cup granulated sugar
1 cup packed brown sugar
1 1/4 cup butter, softened
1 cup all-purpose flour
1 3/4 cup semi-sweet chocolate chips
1 3/4 cup chopped pecans
Preparation:
Preheat oven 325 degrees F.
1. Stir eggs with mixer on medium until creamy.
2. Add granulated sugar, brown sugar and butter mixing until smooth.
3. Add flour, continuing to mix until smooth.
4. Stir in chocolate chips and pecans. Pour in to 9X13″ pan with crust (it will be thick).
5. Bake for 60-70 minutes.
6. Cool completely on wire rack.
7. Cut into 2 inch squares.
Suggestions for presentation:
*Top with a dollop of whipped cream and sprinkle with cocoa powder.
*Top with a dollop of whipped cream and sprinkle with crushed candy canes.
*Dust with powdered sugar and top with a red raspberrry.
Another unique way to take pie to a Christmas party is empanadas. These delicious hand-held pies can be made with simple ingredients, are easy to prepare, can be stored easily, travel well and with some creative presentation it will be the star of the dessert table. Chocolate lovers will go crazy for the chocolate banana empanada and the fresh berry pie will be a hit with fruit pie lovers.
Ingredients
Chocolate banana filling:
4 large ripe bananas
2 tablespoons sugar
1 teaspoon cinnamon
*Pie crust (see below)
Preparation:
Mash the bananas, sugar, and cinnamon together in a mixing bowl until creamy, but not completely smooth – you should still have pieces of banana chunks. Spoon a generous tablespoon of the banana filling on the empanada pastry circles and stick a piece of chocolate on top.
Fresh berry filling:
1 cup blackberries
1 cup strawberries, roughly chopped
1/2 cup goat cheese (can substitute cream cheese)
1/4 cup sugar
*Pie crust (see below)
Preparation
Combine all ingredients and mix well. Scoop heaping tablespoon of filling onto the center of each dough circle.
*This is where the short-cut comes in. You can certainly make your own pie crust, but frozen pie crust will work just as well for these luscious handheld pies.
1. Preheat oven to 425 degrees F. Coat a large baking sheet with cooking spray.
2. Unroll 2 refrigerated pie crusts onto a flat surface.
3. Using round cookie cutter, make circles in the dough (4 circles per crust).
4. Scoop heaping tablespoon of filling onto the center of each dough circle.
5. Fold over and pinch around the edges of each section to seal. (crimp with a fork to ensure they are completely sealed)
6. Transfer the empanadas to the prepared baking sheet and make slits in the top of each to allow steam to escape.
7. Brush with egg wash (2 eggs beaten with 2 Tbsp water)
8. Place the baking sheet into the preheated oven and bake until crust is golden brown, about 8 to 10 minutes.
9. Remove the baking sheet from the oven and cool.
After arranging on a platter, drizzle each empanada with chocolate syrup or dust with powdered sugar. Makes 8 servings.
If you are really pressed for time, make use of canned pie fillings which are available in many flavors. If you use canned fruit pie filling, try to scoop out mostly fruit so the epanadas aren't too soupy. Christmastime should be enjoyed with family and friends celebrating and having fun; don't get bogged down in the kitchen with complicated recipes.
Source:
1. 5 Perfect Pies To Bring To Your Next Party – Huffington Post
2. 25 Perfect Pies | Martha Stewart